Products
AIMEX IIIc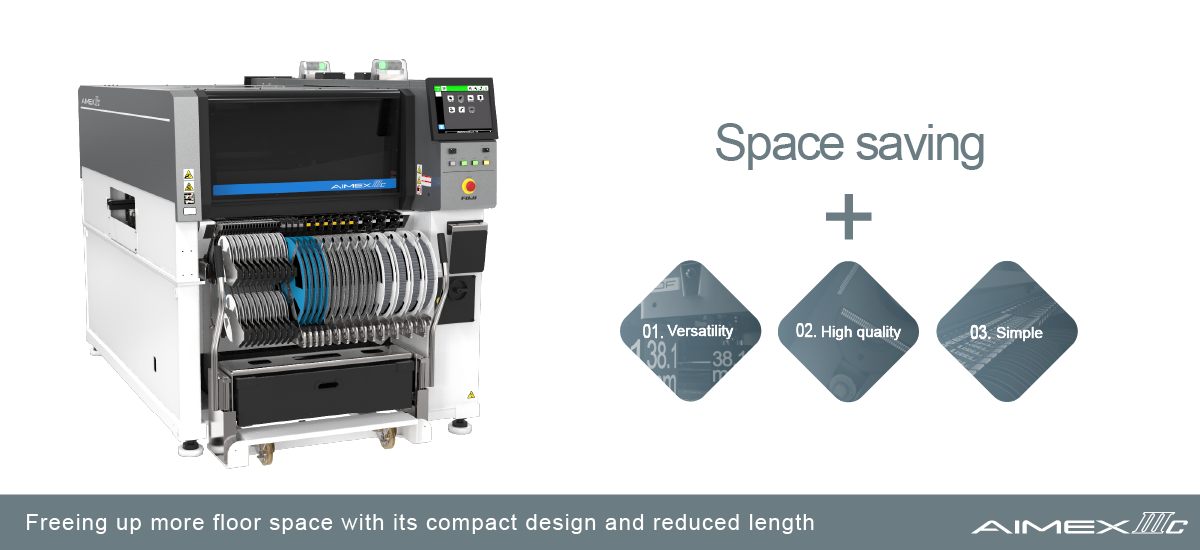 This is an all-in-on machine with scalability and the ultimate level of versatility necessary for increasing productivity for high-mix production.
It features functions for performing operation smoothly in a short time for the work that comes with introducing new production and changing the product models to produce.
The machine flexibly supports various production for users in a variety of sectors including EMS, automotive industry, and more.
Space saving
Compact design with a reduced length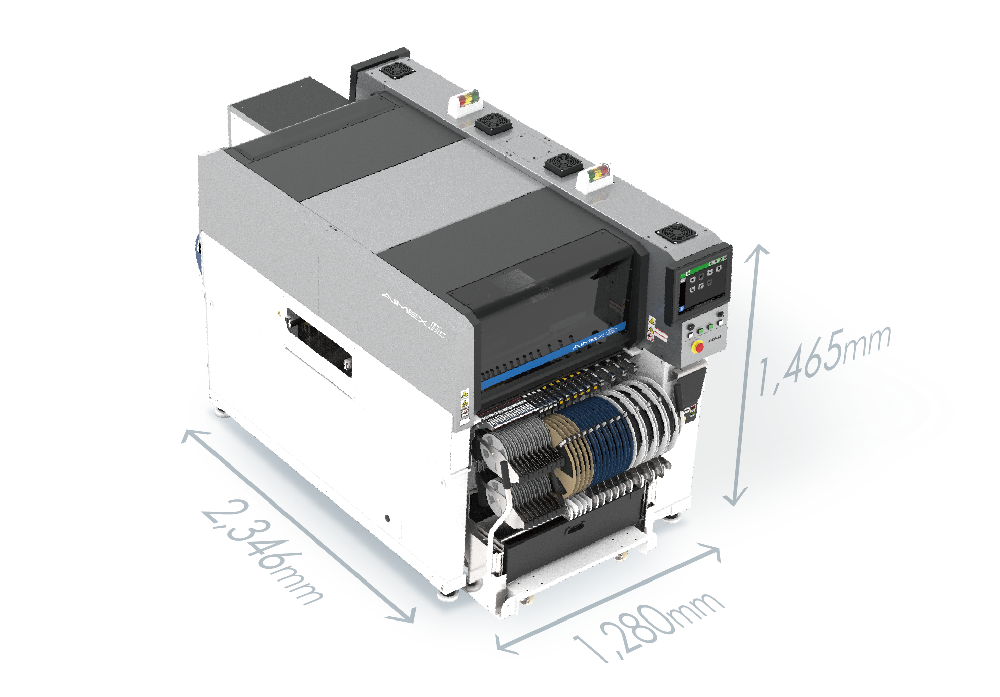 Makes your high-mix production compact with a simple single conveyor configuration.
Machine size: 1,280 (L) x 2,346 (W) x 1,465 (H) mm
Versatility

Supporting 0402 (01005") to 102 x 102 mm parts placement and glue application by one head

A DX head exchanges dedicated tools in one action depending on the part size, from small chips to large odd-form parts. A glue tool enables the machine to perform glue application in addition to part placement.

Bringing specific processes inline

By loading DX heads and dedicated units into the machine, special processes such as glue application and flux transfer can be performed inline. This contributes to the reduction of incomplete products and removes the need for investing in dedicated equipment.

Support for placement of various parts

The machine caters to the placement of various types of parts, supporting from standard to large and odd-form parts, and by handling parts with clamp pressure control or by using various methods such as placing large connectors with pressure insertion.

Placing a large volume of very small parts in a short time

This machine can be loaded with H24S heads for placing 03015 mm parts with an accuracy of ±0.025 mm. With the two head configuration, the machine can reach up to 80,000 cph using productivity priority mode.
High quality

Checks for tombstoned parts, missing parts, and upside-down parts

A wide range of checks like the following can be performed using the Intelligent Part Sensor (IPS).

Checks pickup and checks for parts remaining on the nozzle after placement
Detects tombstoned parts
Checks part heights
Checks for upside-down leaded parts

LCR checks of chip parts

The LCR check unit checks the electrical properties of passive parts (inductance coils, capacitors, and resistors) before placement. This prevents parts with the wrong properties from being placed, which cannot be checked based on exterior checks.

3D coplanarity check that removes faulty parts

All parts are checked before placement to ensure that there are no warped terminals or leads on parts such as connectors and IC chips that can cause poor connectivity, preventing defective parts from being used. It is also possible to check for missing bumps on BGA and CSP parts, which cannot be detected after a part is placed.

Panel warpage check

The panel warp is automatically measured by a laser sensor before placement. Placement is only performed on panels that are within the set tolerance, so that producing on defective panels is prevented.

Low impact placement

Excessive downward push and placing parts above the panel can be prevented by reflecting the part height measured by IPS to the placement point determined from the amount of panel warpage.

Furthermore, the low impact nozzle of Fuji's original design can prevent the collapse of solder and parts from becoming cracked.
Simple

Minimizing the changeover count

Changeover time can be reduced by performing MFU batch changeover and by the machine having up to 130 slots for feeders which makes it possible to load all of the required parts.

Wide range nozzles

Integrate 4 nozzles for multiple parts sizes (0603 (0201"), 1005 (0402"), 1608 (0603"), and 2125 (0805")) into three types (S, M, L). Because nozzles can be shared, the frequency of nozzle exchange is reduced and the cycle time can be improved.

Ramping up production smoothly

Automatic data creation and on-machine editing using a large touchscreen panel supports ramping up new production and quick responses to sudden changes in parts and programs.
In addition, automatic data creation featuring ASG 2.0 (Auto Shape Generator 2.0) now covers even those parts with unique shapes that have not been supported in the past. This upgrade is also incorporated in the on-machine editing, the function to update part shape data on the machine, which further reduces the time required for adjustment.
Example machine configurations

Simple high-mix production (single robot with single conveyor)

Head: DX x 1
Feeder pallet: MFU-65II x 1, Tray unit-LTW2 x 1
Conveyor type: Single conveyor

High-speed chip placer (twin robots with single conveyor)

Head: H24S x 2
Feeder pallet: MFU-65II x 2
Conveyor type: Single conveyor