Products
NXT III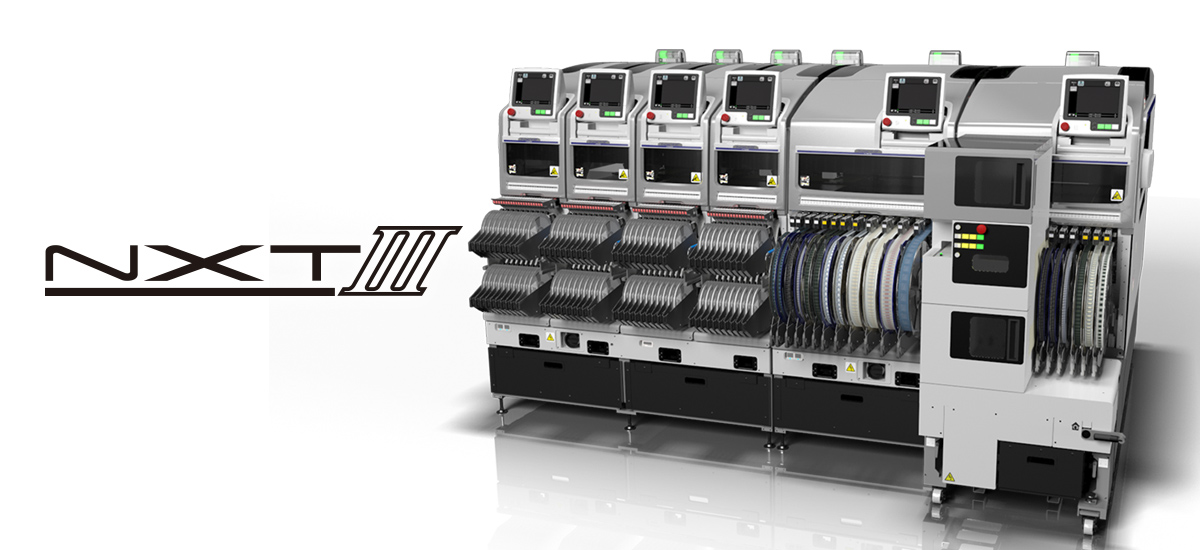 The proliferation of multifunction and high-performance electronics has been growing rapidly in areas such as mobile devices and car electronics. However, because these products tend to have short life cycles, production equipment that has the flexibility to respond to ramping up to mass production in a short amount of time and changes in demand is sought after.

The NXT III is a modular SMT mounter that is able to provide the best line every time for factories that have such kinds of frequent changes for producing electronics devices.
NXT Concept

Full modularization and unitization

Configure lines according to the purpose

Modules, heads, and supply units can be combined freely, so that the optimum line configuration can always be built by changing the configuration to match changes in the part type and product model.

It is possible to expand the capability only for the necessary level by adding modules and exchanging units.

Offline maintenance to maximize production uptime

Because swapping units that require maintenance with units that are fully maintained can be performed at the operator level, downtime can also be greatly reduced. Maintenance can be performed offline on the removed units while production is still running.

 

The machines are designed to reduce operator work load

The module can be pulled forward for easy access inside the machine from both sides. Working at the machine can be performed in a safe and comfortable posture.

ID management

Heads, nozzles, and feeders are all managed by ID.

Detailed production data for materials and equipment is stored in the database, to be used for line management, maintenance management, and traceability.

Automatic calibration

The operator simply pushes the START button after exchanging the head. Heads are calibrated automatically in the machine so that production can resume.
Features

Compact lightweight heads

Heads can be exchanged easily

Heads can be exchanged easily without tools.

The heads are lightweight and thus can be removed easily by a machine operator when needing to perform maintenance or troubleshooting when responding to issues.

High speed and high accuracy

Having compact and lightweight heads reduced the load on the machine. As a result, the modules themselves are able to be compact while maintaining high speed and high accuracy.

Single-side operation

Only a short distance is traveled for part supply and changeover, for a simple work path that does not take excessive time or effort.
Production lines can be configured freely into layouts such as back to back or U-shaped lines.
High quality

Checks tombstoned parts, missing parts, and upside-down parts

A wide range of checks like the following can be performed using the Intelligent Part Sensor (IPS).

Checks pickup and checks for parts remaining on the nozzle after placement
Detects tombstoned parts
Checks part heights
Checks for upside-down leaded parts

Electrical property checks (LCR checks) of chip parts

The LCR check unit checks the electrical properties of passive parts (inductance coils, capacitors, and resistors) before placement. This prevents parts with the wrong properties from being placed, which cannot be checked based on exterior checks.

3D Coplanarity check that removes faulty parts

All parts are checked before placement to ensure that there are no warped terminals or leads on parts such as connectors and IC chips that can cause poor connectivity, preventing defective parts from being used. It is also possible to check for missing bumps on BGA and CSP parts, which cannot be detected after a part is placed.

Panel warpage check

The panel warp is automatically measured by a laser sensor before placement. Placement is only performed on panels that are within the set tolerance, so that defective panels are stopped before they can be produced.

Low impact placement

Excessive downward push and placing parts above the panel can be prevented by reflecting the part height measured by IPS to the placing surface determined from the amount of panel warpage.

Furthermore, the low impact nozzle of Fuji's original design can prevent the collapse of solder and parts from becoming cracked.

High quality, high density placement at top speed

Very high density part placement of 0201 (008004") parts is supported by standard specification cameras and units. Positioning is corrected as each part following pickup, so that very small parts can be placed with fine pitches at top speed.
High productivity

Wide range nozzles

Integrate 4 nozzles for multiple parts sizes (0603 (0201"), 1005 (0402"), 1608 (0603"), and 2125 (0805")) into three types (S, M, L). Because nozzles can be shared, the frequency of nozzle exchange is reduced and the cycle time can be improved.

Bringing specific processes inline

By loading dedicated heads and units into the machine, specific processes such as glue application and flux transfer can be performed inline. This contributes to the reduction of incomplete products and removes the need for investing in dedicated equipment.

DX head supporting various types of parts

The DX head automatically exchanges tools based on the part size, from chips to large and odd-form parts, and can be loaded on M6 III modules. When production models are frequently changed and there are changes in the part type mixes, it is possible to adjust the line balance.

Support for placement of various parts

NXT III caters to the placement of various types of parts, supporting from standard to large and odd-form parts, and by handling parts using various methods such as placing large connectors with pressure insertion or parts with clamp pressure control.

67,200 cph/㎡ - World's best productivity per floor area

Area productivity of the machines is extremely important when considering the productivity of the entire factory. NXT III is a leading-edge placement solution that is fast and takes up little space, making it possible to get the best productivity out of limited floor space.
NXT III special lineup

M3 IIISE

17% increase in performance

The speed of operations frequently used in actual production has been increased intensively, improving the throughput by 17% compared to previous models.
The M3 IIISE module is effective for module part boards, smartphone boards, and other such panels which have high-density part population.

M6 IIIL module, H12L head

Realtime load control

As parts continue to become even smaller, thinner, and lighter the demand for low-impact placement, in addition to placement accuracy, is also increasing. The combination of the H12L head with the M6 IIIL module makes it possible to control the load during placement in real time. This means that parts can always be placed using the same load regardless of the condition of the panel, preventing damage to parts.
More