Products
Ultimate Multi Task Machine GYROFLEX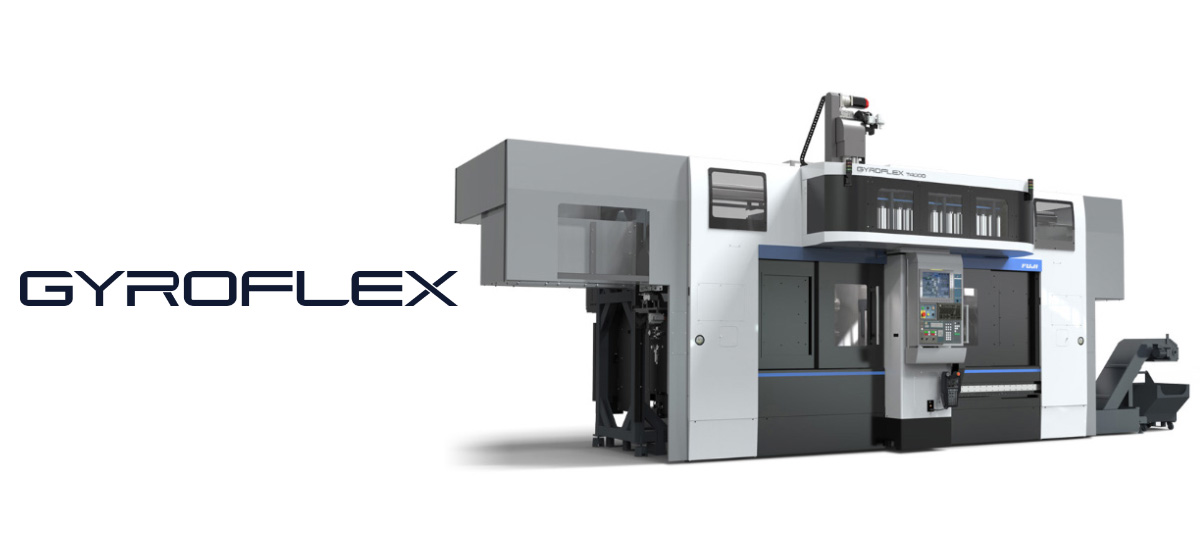 Ultimate Multi Task Machine with FUJI's expertise in machining and automation.
Features
FUJI has developed our GYROFLEX Automated Multi Task Machine to increase parts processing efficiency and flexibility for our customers.
This innovative new machine solution will help our customers to secure their production and maximize their profitability.
Process combination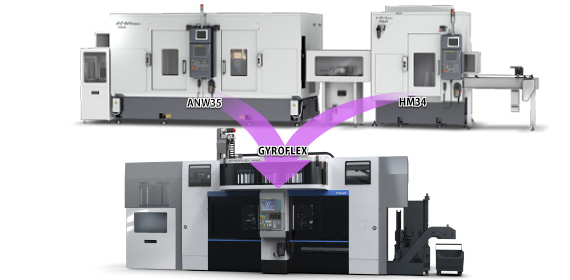 The standard capacity of 30 tools on the turrets (15 each) and 70 tools on the ATC magazine enables increased machining functionality and flexibility for high mixed production by process combination.
Floor space reduction can be realized by the machining with one single machine.
Unattended operation by integrated robot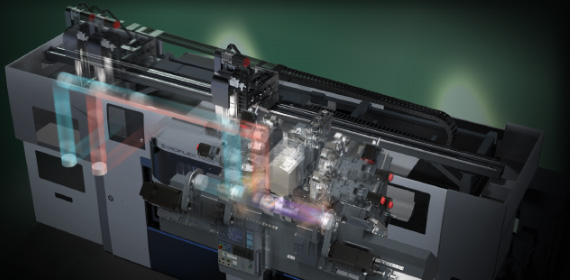 Integrated robot for fast parts handling and unattended operation.Perfect chip disposal design enables non-stop and efficient production.
The hydraulic robot chuck enables stable clamping for heavy parts and eliminates any potential operator loading error.
Programming support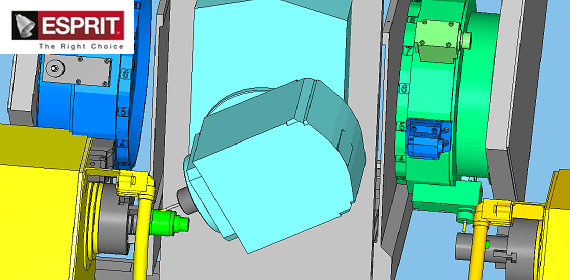 Easy programming for complex parts and process combination are possible by using ESPRIT 3D CAD/CAM system.
Machine Structure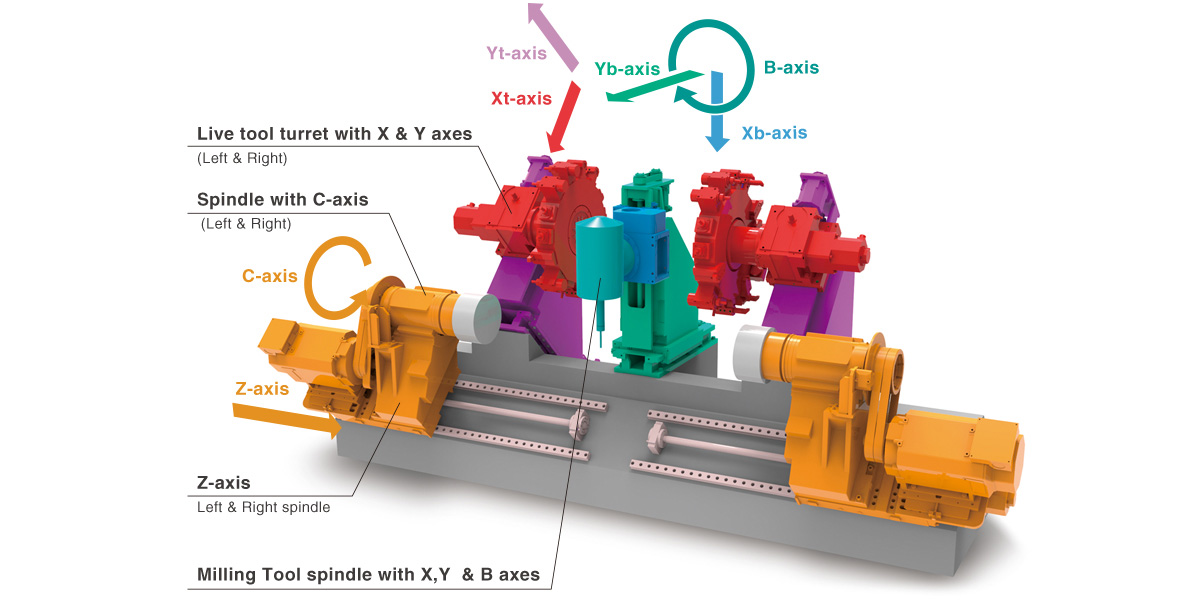 Live tool Turret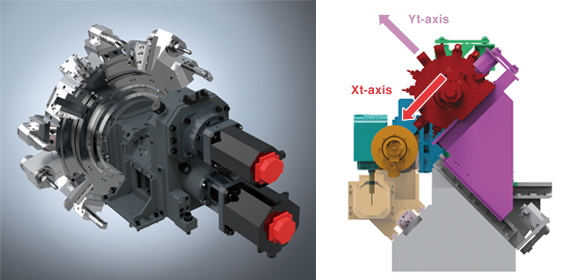 ・15 stations live tool turrets.
・The turrets are on the highly rigid X & Y axes box way slides.
・Turret index time is 0.4 sec.
・Rigid turret clamping with hyd. curvic coupling design.
・Live tools designed for heavy cutting.
 Spindle speed : Max 4,000 rpm
 Spindle motor : 6 HP
Main Spindle with C-axis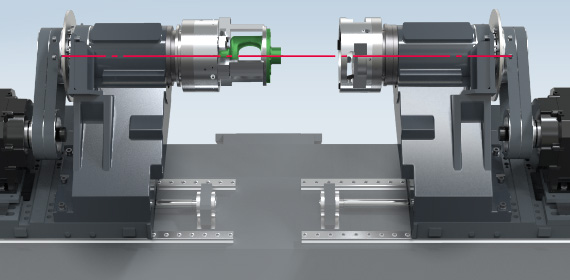 ・The opposed twin spindles are positioned on the Z-axis slide ways with 960mm of stroke.
・Both spindles are the same size and have the same machining capability.
Same operations (OP-10A/10B) on both spindles is possible.
・The 1st spindle can pass a part to the 2nd spindle while keeping positioning accuracy.
・The Z-axis slide can move at high speed to reduce the loading time to the 2nd spindle.
Milling Tool spindle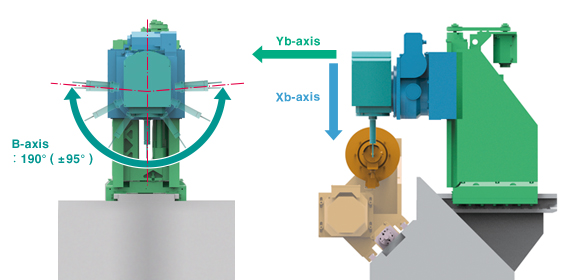 ・The Milling tool spindle is mounted on the rigid X & Y axes box way slides.
・The milling tool spindle can access to both Z-axis spindles and swing up to 190 degrees.This allows for various different types of machining.
・Capto C6 : Standard equipment.
・Turning by Milling spindle.Tool and B-axis are clamped by curvic coupling.
・High performance milling tool spindle.
 Spindle speed : 12,000 rpm
 Spindle motor : 15 HP
ATC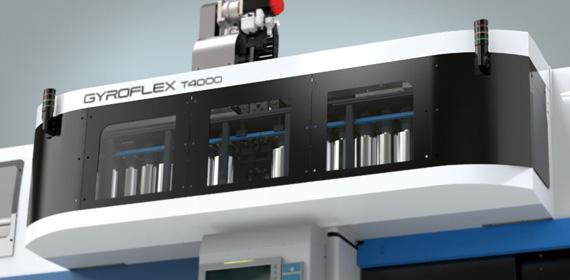 ・ The ATC magazine is located at the top of the machine for easy access and operation.
・ 40 tools can be stocked in the magazine.
・ Rapid tool change time : 4 sec
・ Maximum tool diameter : 130 mm
  Tool length : 300 mm
  Tool weight : 8 kg
3-axes gantry robot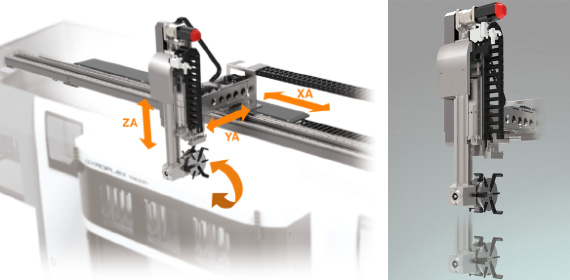 ・The 3-axes gantry robot can access peripheral devices at the left and right sides of the machine.
・ The robot has two arms (primary and secondary) to reduce the machines overall height.
・ The hydraulic robot chuck enables stable clamping and workpiece handling with minimum space requirements due to the innovative thin type double hand design.
・ A robot chuck clamp confirmation sensor is available as a optional item.