Business
Electronics 3D Printer
FPM-Trinity System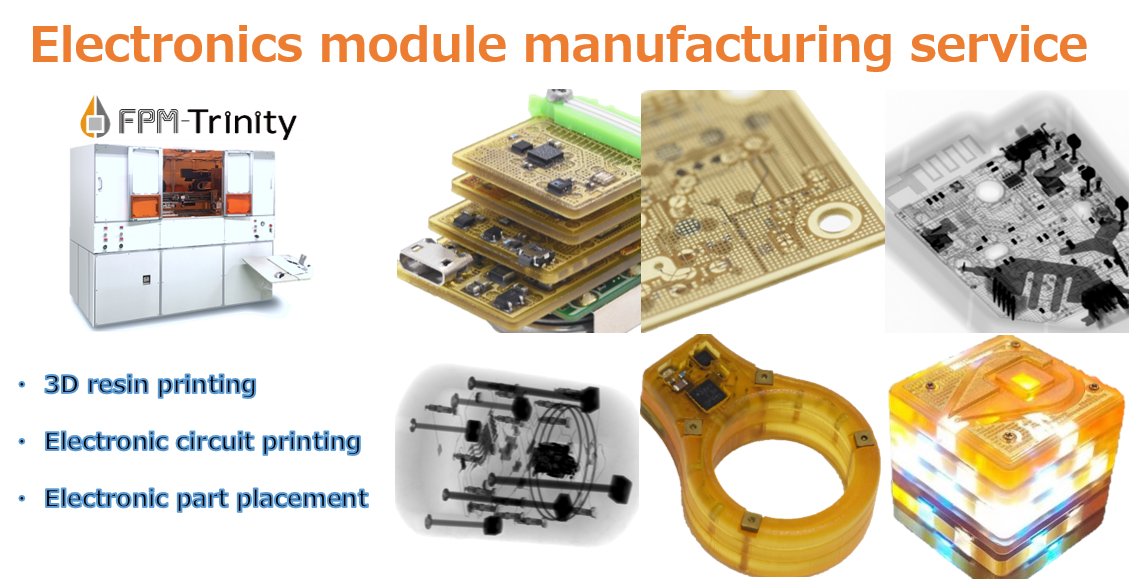 About electronic module prototyping service.
FPM-Trinity provides below.
☞ Electrical module which suites for your requirement of unique size and shape.
☞ Short PoC cycles by rapid prototyping.
☞ Custom one-of-a-kind module.

What is FPM-Trinity?
FPM-Trinity is a unique 3D printer which is under development.
It is consisted of 3 functions .
1.Resin printing
2.Circuit printing
3.Part placement

Contact us if you want to learn more about service and machine.

Electronic module prototyping services
FPM-Trinity can be used to create electronic modules that suit your requirements.
All we need are circuit diagrams and a bill of materials (BOM) to create a module with mounted parts.
If it is difficult to procure certain materials, we will consult with you accordingly.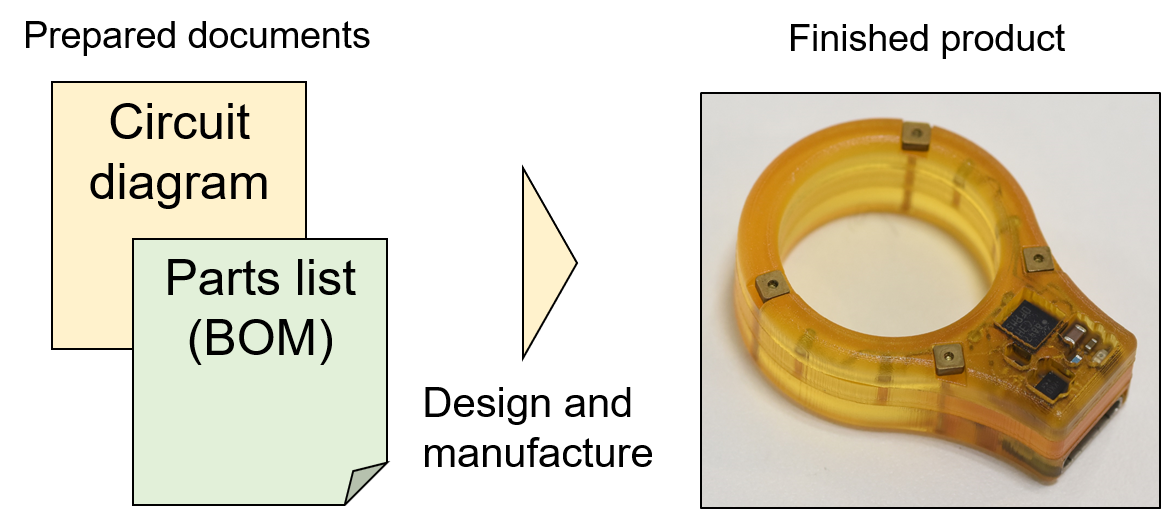 Service flow for electronic module prototyping
From the provided materials, we design the module, print circuit and body, and place parts.
There is no cost up to the designing of the electronic module. Orders go through only after customers are satisfied with the provided design and quotation.
◆Service flow

It takes about 4 weeks from board design to delivery.
Customer's use cases
Leafony with FPM-Trinity
Leafony from the Trillion Node Study Group are 2 cm square boards that are Arduino compatible for which it is easy to create compact low-power devices by simply stacking boards.
It is possible to easily create custom hardware that will dramatically speed up the development cycle of IoT just by selecting and assembling the necessary modules.
In order to further shorten the development time, by substituting the FPM-Trinity for manufacturing one section of the functions, the design > manufacturer > verification process could be completed in four days.

Finch with FPM-Trinity
Finch is a three opposing finger electric prosthetic hand with a simple structure and high functionality and operability.
It is a lightweight and low cost prosthetic hand and its housing is manufactured by 3D printers.
By remaking the distance sensor that senses muscle flexing with FPM-Trinity, we succeeded in reducing user stress by creating a thin curved surface shape.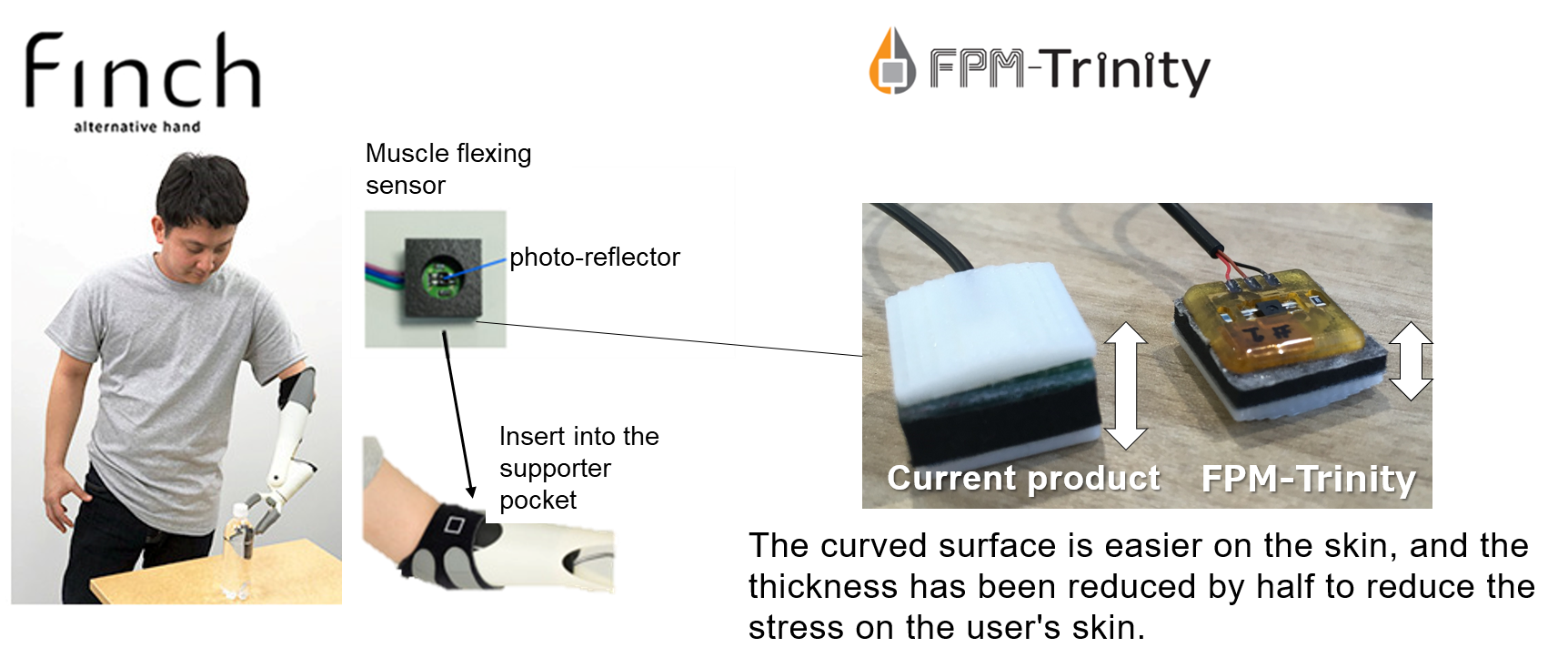 Digital Factory and FPM-Trinity
In collaboration with Digital Factory Corporation (https://dfc-3d.com/), we have successfully incorporated LED circuit boards manufactured by FPM-Trinity in items created by a polyjet type 3D printer.
Although the method is still in the experimental stage, by pursuing the combination of additive technologies, it will be possible to manufacture structures with freedom in the color, softness, and size while containing electronic functions.

◆Rapid prototyping and rapid PoC
◆High-mix low-volume products: Make custom one-of-a-kind products
◆Unique shapes: Implement free forms
Four-layers build-up boards with FPM-Trinity (Company A and B)
The 4 layers build-up boards are manufactured by 3D printing.
By designing and modeling the housing together with the boards, it is possible to make a prototype that is based on the image of the final product.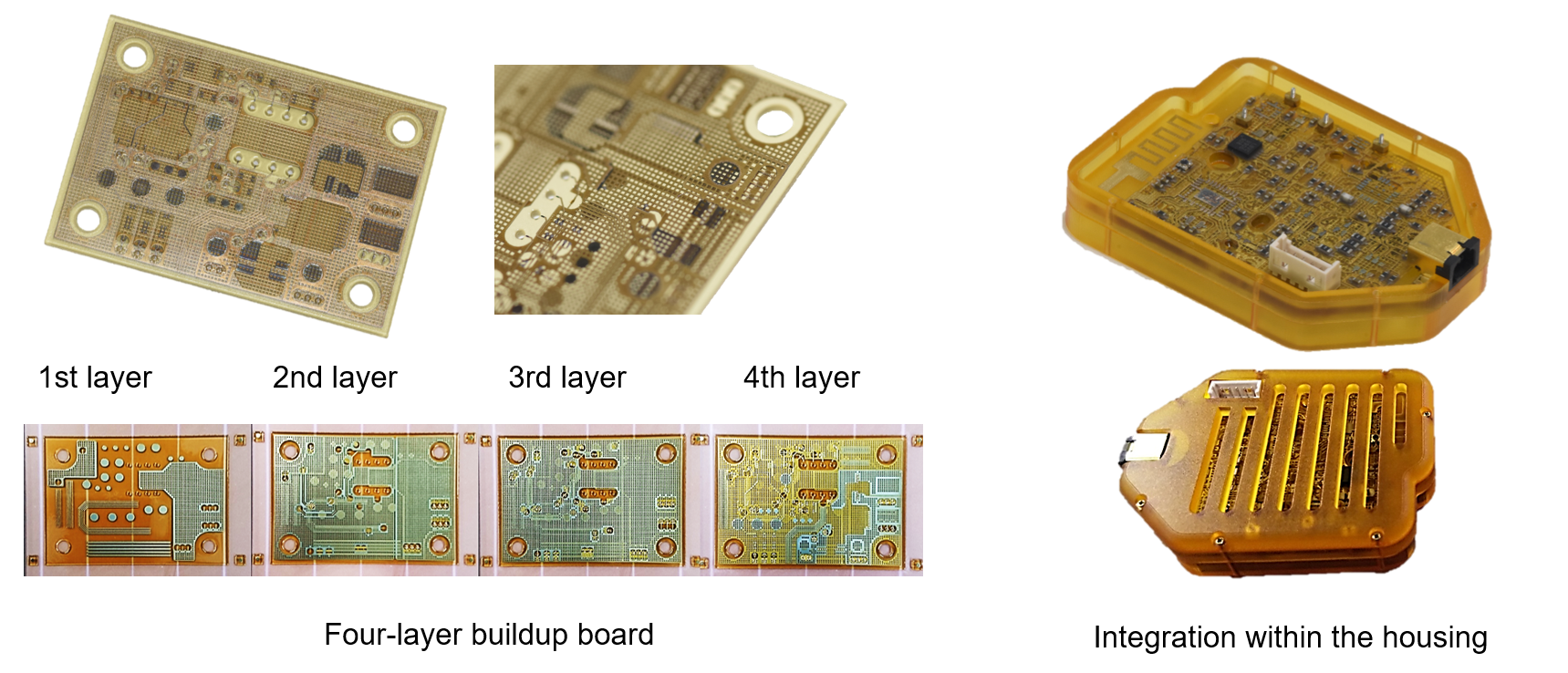 Animal sensor boards with FPM-Trinity (FACULTY OF ENGINEERING, KYUSHU UNIVERSITY)
Custom sensors for animal health monitoring trials have been prototyped by FPM-Trinity.
Accelerate your development by creating custom boards for your research and proof of concept in a short period of time.
The next planned step is to changed the shape to one that is easier for animals to wear.

Boards for IC evaluation with FPM-Trinity (Toshiba Infrastructure Systems & Solutions Corporation)
Prototypes for boards for IC evaluations were created by FPM-Trinity in order to create them quickly and easily.
By using the Leafony bus, it is easy to connect to an external PCB board.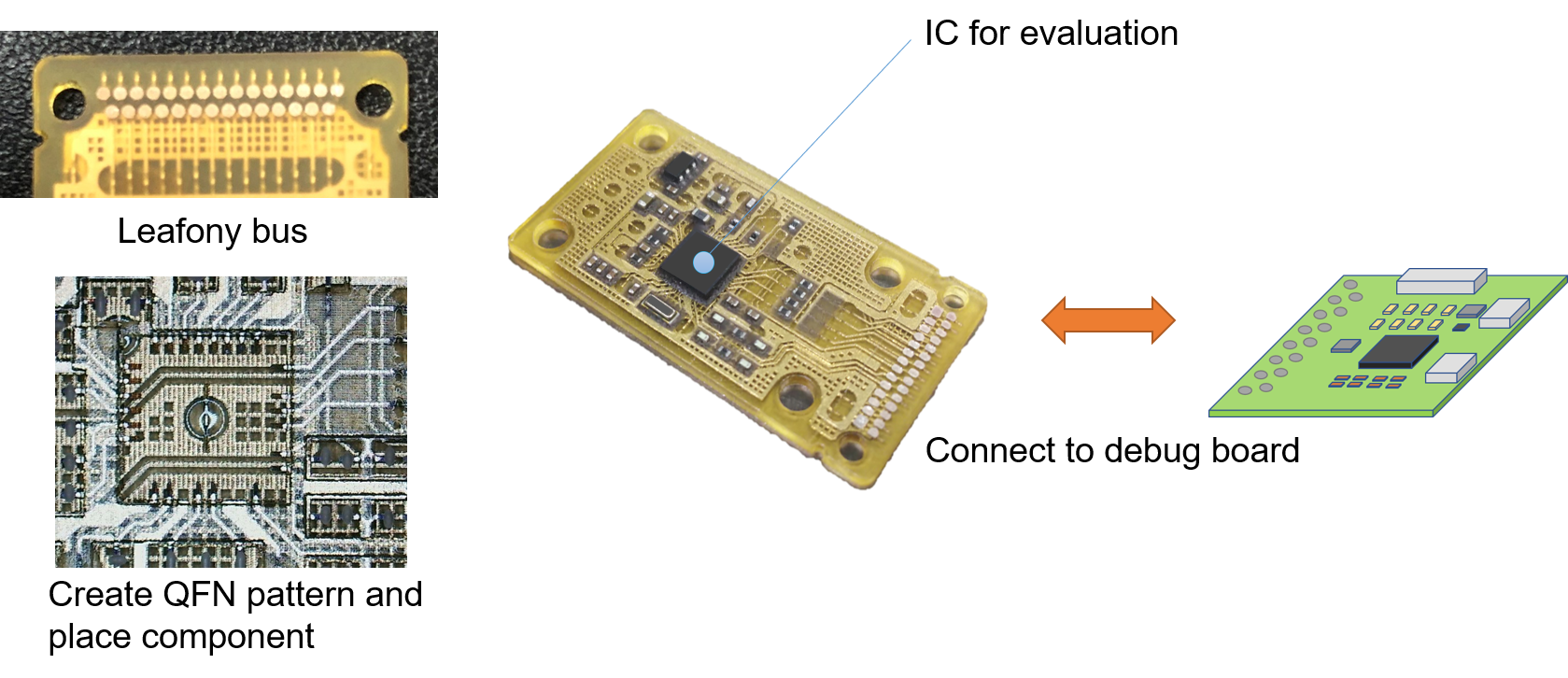 NFC devices with FPM-Trinity (Toshiba Digital Solutions Corporation)
A fingernail-shaped NFC device with built-in electronic components and antenna.
We can manufacture a device that fits an individual from a 3D scan of the fingernail shape.
It is also possible to print the pattern for the antenna circuit with the 3D printer.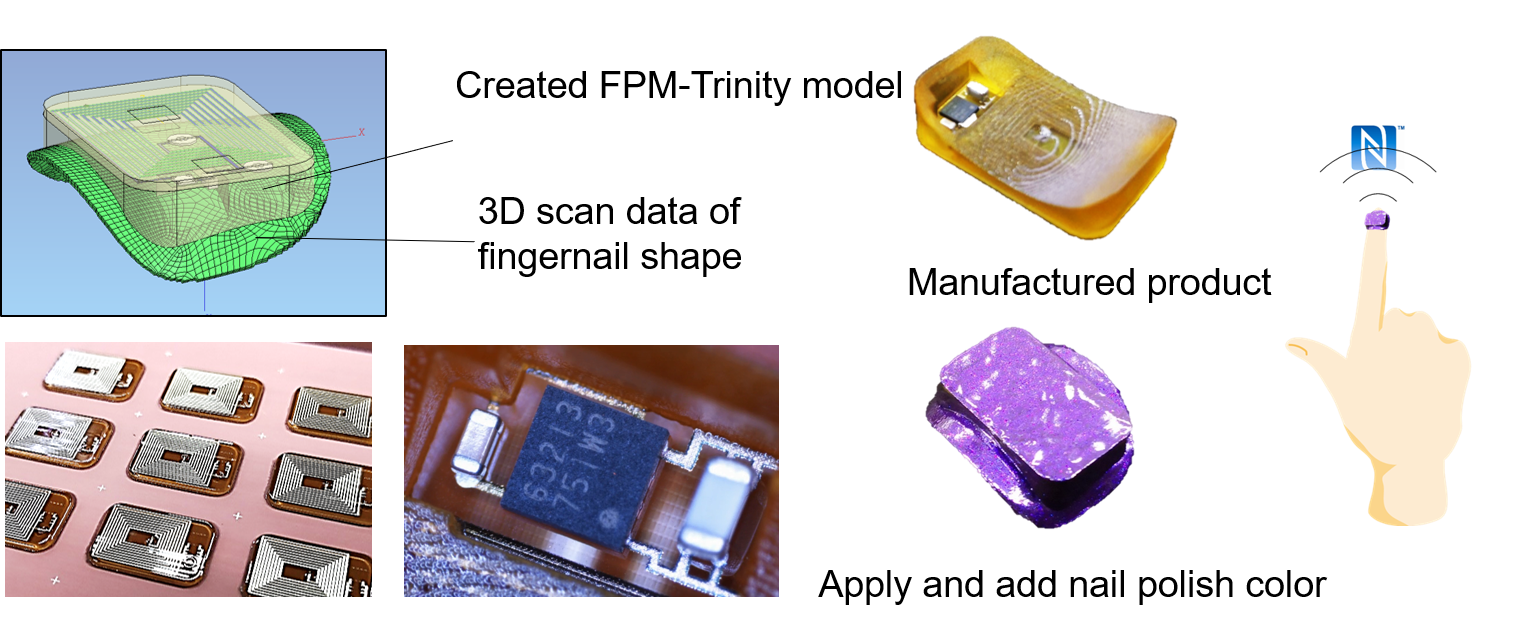 Smart glasses with FPM-Trinity (Company C)
Smart glasses with a sensor built into the frame of the glasses.
By 3D scanning your favorite pair of glasses, you can manufacture smart glasses with an individually tailored shape.
Since electronic components can be built into the frame and circuit patterns can be formed, the shape can be miniaturized.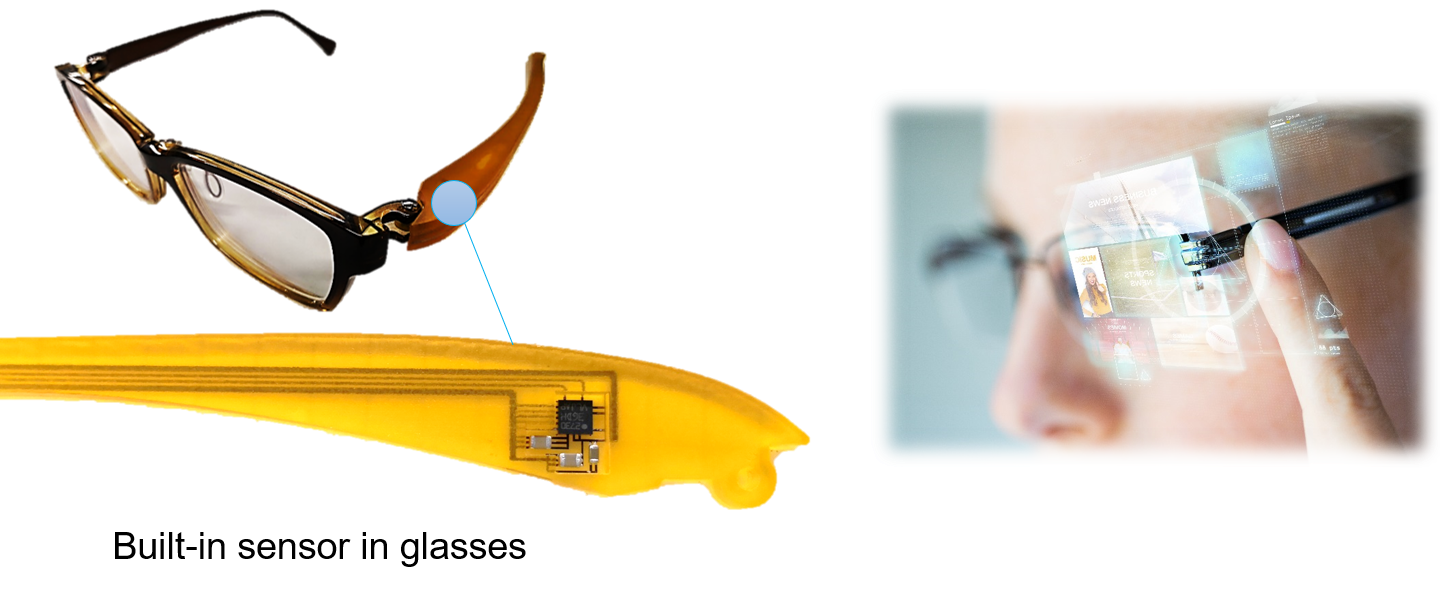 Boards for wafer inspection with FPM-Trinity (Minimal Fab)
We have developed a prototype of a electrical test board for wafer inspection for "minimal fabs" which makes it possible to manufacture small quantities of semiconductor chips in a short period of time, at a low cost.
We can design electrical test boards to suit a wide variety of semiconductor chips and manufacture them with short delivery times.

Ring-shaped sensors with FPM-Trinity (Company D)
This is a ring-type wearable device with a built-in 3 axis acceleration sensor.
Incorporating circuits into 3D shapes such as rings can also be easily achieved.
Since the housing and circuits are molded as one piece, circuit patterns can be formed into the ring.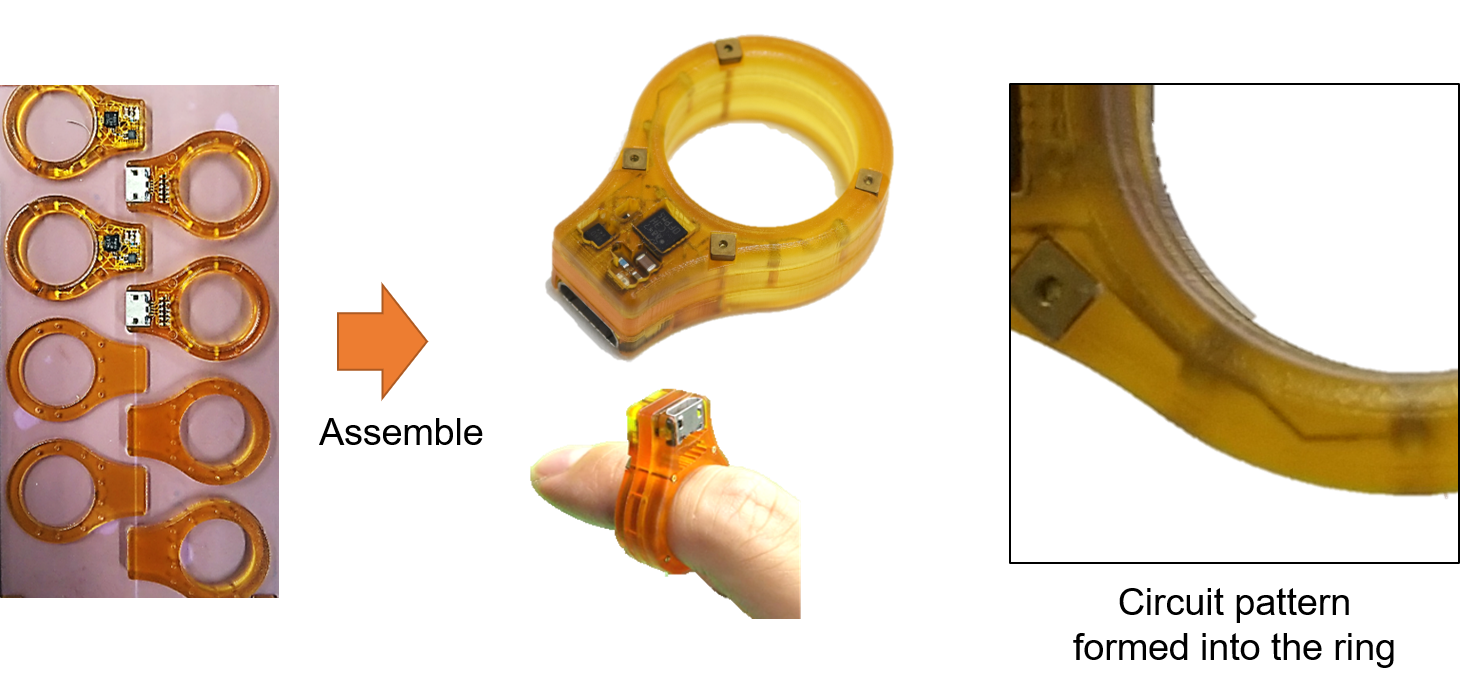 Ultra-compact temperature sensors with FPM-Trinity (National Institute of Advanced Industrial Science and Technology)
This is an animal sensor unit with a built-in sensor, antenna, microcomputer, and battery.
Assemble the five boards and the upper and lower housings into one unit.
It is possible to customize the shape and size of the product to suit the target animal.

Ultra-compact temperature sensors with FPM-Trinity (National Institute of Advanced Industrial Science and Technology)
28 pieces of LED parts are incorporated into the printed cube with three-dimensional design.
This cube is made up with 5 boards and 4 interposers.
Guidelines for design rules
 
Item
Specifications (as of April 2020)
Material
Resin
UV curable (orange clear type)
Circuits
Silver nano particle ink
Component connections, electrodes
Silver conductive paste
Component securing
Epoxy adhesive (black color)
Resin formation
Max resin build size
60 x 60 x 4 mm
Circuit formation
Trace width
Minimum: 140 um, Maximum: 1,000 um
Maximum layer count
5
Layer interconnections
Blind vias (non-stacking)
Minimum via pitch
380 um
Part placement
Placement method
SMD
Chip size
1005 (0402") to 2316 (1206") mm
Package parts size
(QFN, QFP, SOP)
Maximum size: 7 mm
Maximum thickness: 1 mm
Minimum electrode pitch
0.5 mm
Electrode surface finish
Sn, Au
Application for the service